Water Jet and Cutting
Water Jet
In 2015, to support the development of technological possibilities, we purchased a CNC workplace for cutting materials with water jet. The most important parameters to extend our technological application possibilities are the effective cutting area of 2000 x 6000 mm and 2500 x 4000 mm with the accuracy of +/- 0.50 mm/m (or lower depending on the thickness and type of cut material) and the thickness of the cut materials in the range of 0.5-180 mm.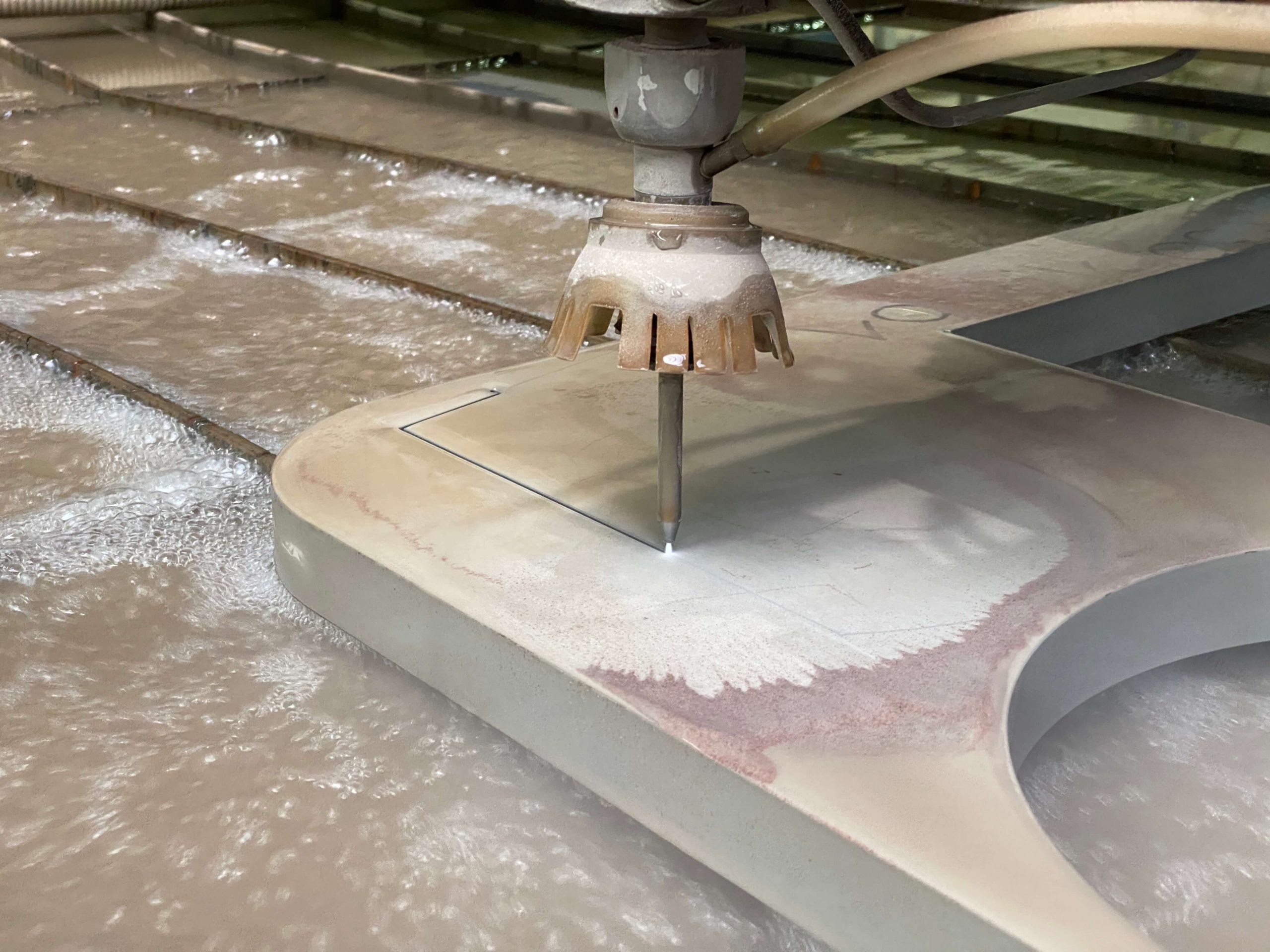 Advantages of water jet cutting:
The cut material is not thermally affected, low mechanical load. Quality cut with almost no need for further refining. Suitable for cutting materials up to 180 mm thick. Direct penetration in any possible position.
Workplace parameters (2 machines):
Cutting width: 0.9 – 1.5 mm for abrasive jet
Cutting accuracy: up to ± 0.2 mm
Beam shifting speed in the section: in the range from 1 mm to 20,000 mm per minute depending on the material and its thickness.
Largest surface area of material to be machined: 2,000 x 6,000 mm or 2,500 x 4,000 mm
Thickness of the cut material: 0.5 – 180.0 mm
Cut materials
structural steel, alloyed, heat-treated, welded steel with extreme hardness
alloys of aluminium, titanium, copper, nickel, etc.
fiberglass, composites, technical and advertising plastics
marble, granite, sandstone, tiles, artificial stone, sintered ceramics
glass, plexiglass
electrical insulating and thermal insulation composites
sealing and foam materials, expanded graphite
Material cutting
Cutting width: 0,9 – 1,5 mm for abrasive jet
Cutting accuracy: up to ± 0,2 mm
Jet feed speed in the section: in the range from 1 mm to 20,000 mm per minute depending on the material and its thickness.
Largest surface dimension of material to be machined: 2,000 x 6,000 mm or 2,500 x 4,000 mm
Thickness of the cut material: 0.5 – 180.0 mm
Cutting of round bars, square profiles up to the diameter of 700 mm and length of 6000 mm
Cutting with hydraulic shears up to the thickness of 6 mm and length of 3000 mm